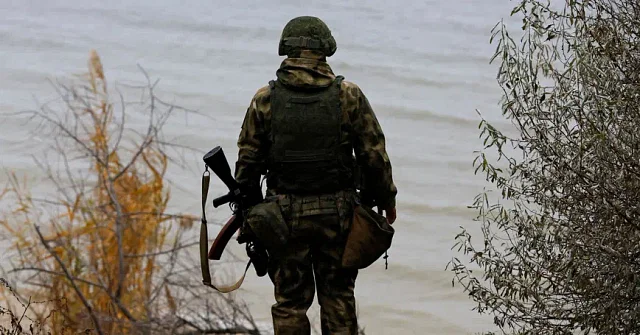 Sergei (pseudonym) was shot twice during the war on the battlefield. After treatment, this Russian soldier was sent back to war. He did not have to face the difficult situation of service. Even snow had to be eaten to quench thirst. And one day a grenade blast took away his sight for a while. A service doctor saved his life.
Another is Andrei (pseudonym). He was put in prison at the age of 20 on charges of drug addiction. Three years later, he was sent to fight in the Ukraine. There was no military training. As a result, three weeks later he died in the attack. Another 60 Russian soldiers were killed in that attack. Russian President Vladimir Putin was celebrating the defeat of the Nazis in Moscow's Red Square that day.
The first case is to return from the battlefield somehow alive. The latter is death at an early age. Both cases illustrate a reality. That is, the Russian soldiers are facing disaster on the battlefield. Many of the wounded soldiers were once prisoners. In exchange for their release, they joined a battalion named "Storm-Z" of the Russian army.
These prisoners are fighting for freedom. But liberation is the next thing, it has become difficult for them to survive on the battlefield. First, they were brought into the war by the Russian mercenary war organization Bhagnar Group. Later, the country's Ministry of Defense followed the same path. For example, the Storm-Z battalion is being operated under this ministry.
CNN spoke to the mother of the deceased Andrei. The tragic incident that happened to the boy, has emerged from some of his videos, documents, and small messages. Survivor Sergey also gave an interview to CNN a month ago. It was also discussed last week. He said that the tragic fate of Russian soldiers on the battlefield in Ukraine.
Day after day with panic
Sergei fought in Ukraine for eight months. He was shot in one leg last winter. After 10 days of treatment, he was taken back to the battlefield. Then he was shot in the shoulder. He spent two months in the hospital. Then address the battlefield. Sergei said he saw a prisoner with a mutilated body doing the job of communicating via radio in battle. And the soldiers kept their bulletproof clothing off. Because they cannot provide even a little protection.
Sergei was given a job in a hospital by the doctor who saved his life. He works another job to support the family. Hope to get some money from the Russian government as compensation for the shooting. He said that the sound of gunshots is still in his ears during the night. So he cannot sleep peacefully even in his own house.
In the army that Sergei was in, there were 600 prisoners at first. That happened in October last year. Now 170 people are alive. All but two of them were more or less injured. Sergey said some were injured three or four times. Once a shell hit their party and many soldiers were dismembered.
While reminiscing about such a day, Sergei said, one day they attacked. A fierce conflict was going on. The commander's orders were, no matter what, to push forward. At one point a Ukrainian fighter threw a grenade. A soldier who was with him got splinters from that grenade all over his body. And he lost his sight for about five hours.
Day after day in Ukraine, Sergei is carrying the fear of death. They were given tinned meat and noodles as food. Collecting water was the most difficult. Sergei said, "We have to walk three to four kilometers to get water." Sometimes we did not eat for several days in a row.
Many times the soldiers of his party were sentenced to death to maintain order, said Sergei. He said, 'I have seen this only once. One stole and killed some of the party during the battle. Later when he tried to escape, he was shot in the head from behind. After that, his body was taken away.
'Fighting for freedom from prison
23-year-old Andrei saw the horrors of the battlefield for a short time, just three weeks. His mother Yulia played some audio messages from her son. There, Andrei is heard making fun of the weather. In Yulia's words, her son had not yet become a 'man'.
"He (Andrei) did not remember how much money he (Andrei) was promised to go to war," said Yulia. He didn't think so. I did not see any interest in him to receive this money. What he wanted was liberation. He was sentenced (on drug-related charges) to 9 and a half years. And he served only three years.
Yulia has a video captured in Russian-occupied territory in Ukraine. There, Andrei is seen training in combat assaults. And a few pictures show Andrei's discolored, sunburned face. A clean-shaven beard. He was sitting behind the car with a big helmet on his head. However, Yulia does not have many such pictures. Because his son died a few days after joining the war.
Andrei sent a message to his mother last May. He said they are being sent to the front line of the war zone in eastern Ukraine. They will start the attack the next evening. The big event in Moscow that day. A parade will be held across Red Square to mark the anniversary of the defeat of the Nazis in World War II. Putin was at the center of this arrangement.