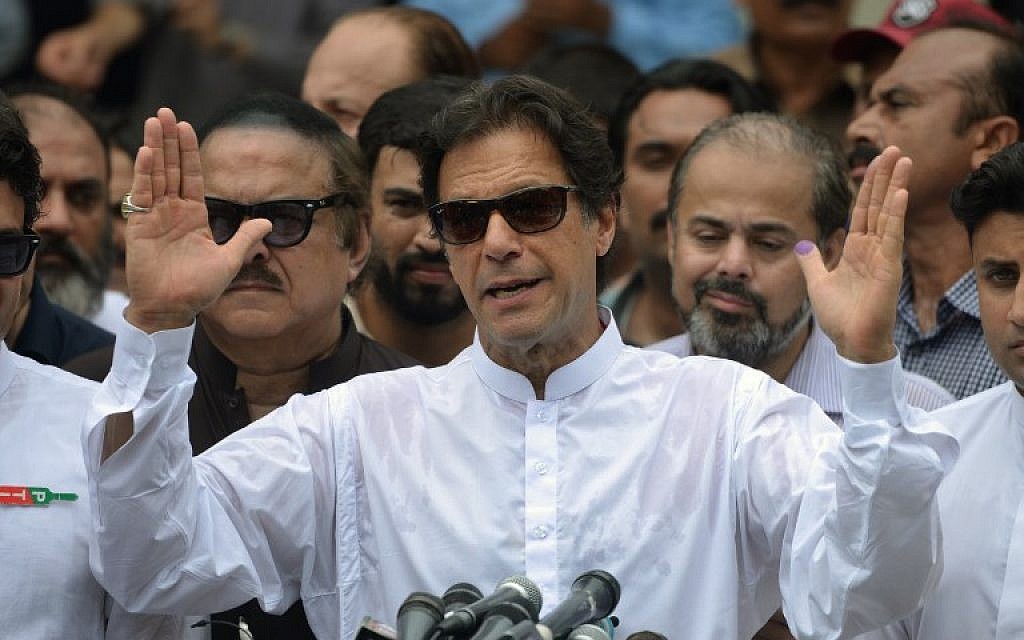 Imran Khan: For many years, the Pakistan Army believed it had found a 'savior' for the country. This savior is Imran Khan. But writer and journalist Mohammad Hanif wrote, after a year of being removed from power, it is seen that Imran Khan is becoming the "eternal enemy" of the army. Army is also using all its power to avoid Imran's outrage.
Dharpak and Sarashi operations are going on across the country against Imran Khan and his party Pakistan Tehreek-e-Insaf (PTI). This has created a situation where the whole of Pakistan has come to a standstill.
The people of Pakistan are suffering due to the increase in the prices of daily commodities. In intense heat, Prana is oral. This summer is the hottest in the country's history. Added to this is the power outage. An extreme political crisis has arisen in this situation. What will Imran do next, what steps will the army take to stop him, the whole nation is consumed by the thought.
Imran Khan was forced to leave the post of Prime Minister more than a year ago. His supporters have been threatening that if Imran Khan is arrested, the country will be on fire. After several unsuccessful attempts, Imran Khan was arrested on May 9 by members of the paramilitary forces.
After the arrest of Imran Khan, the entire country did not burn, but there was violence even in the cantonment. The most protected place in Pakistan is considered to be the headquarters of the country's army, known as the General Headquarters (GHQ). Workers and supporters of Imran Khan's party entered the army headquarters and pulled down signboards bearing the army flag.
A senior army general's residence was set on fire in Lahore. Imran Khan's supporters were seen on camera setting the furniture and car of the General's house on fire. A protester dressed in the general's military uniform was seen leaving the house. Another is seen carrying the general's pet peacock.
Although the activities of Imran Khan's workers-supporters had all the characteristics of a revolution, it was not a 'revolution'. The army first pulled Imran close but later pushed him away. Now his supporters are taking revenge. It cannot be called a revolution, it may be more of a murderous quarrel.
It has become a tradition in Pakistan for Prime Ministers to lose power due to conflicts with the military.
Zulfikar Ali Bhutto, the country's first elected Prime Minister, was hanged. His daughter Benazir Bhutto was twice removed as Prime Minister. He was later killed in a suicide bombing. The attacker was a teenager. There was never a full investigation into that incident. Another former prime minister, Nawaz Sharif, was also removed. He was then in prison, then exiled. Still abroad. Nawaz's younger brother Shahbaz Sharif is now the Prime Minister of Pakistan. Although Nawaz is practically running the country through him, he is yet to return to Pakistan.
In a speech shortly before his arrest from the Islamabad High Court premises, Imran Khan hinted that Army Chief Asim Munir was the man who wanted to destroy the PTI.
Earlier, Imran Khan called Pakistan's former army chief General Qamar Javed Bajwa a 'traitor'. However, it is believed that General Bajwar was instrumental in bringing and sustaining Imran Khan to power. At the same time, Imran Khan claimed that a general of Pakistan's intelligence agency ISI tried to kill him but failed. Imran Khan and his supporters called the general "reckless and ferocious" in several public rallies.
In the past, many Pakistani politicians have been seen criticizing the role of the military as an institution. But Pakistanis were not used to seeing an army commander's residence on fire, women protestors rioting at army headquarters, and statues of brave soldiers vandalized.
Since Imran Khan and his supporters have done this, it was expected from the current coalition government, which consists of almost all anti-Imran parties.
The Imran Khan camp has alleged that the government is trying to thwart the upcoming national elections. Multiple opinion polls have revealed that Imran Khan is more likely to win this election. Many politicians from the parties in the current coalition government have demanded a complete ban on Imran's party PTI.
The army did not have to be so quick to retaliate
Ali Wazir, an elected member of the National Assembly, once criticized the Pakistan Army for being sympathetic to the Taliban. After this incident, he was sentenced to two years in prison. He was not even allowed to enter the National Assembly. Hundreds of thousands of leaders and activists have gone missing in Balochistan. Pakistan's courts and mainstream political parties are silent on the matter.
So how is Imran Khan still walking around freely after hundreds of cases? Many believe that Imran Khan has polarized the Pakistan Army. Many army officers and their families are impressed by Imran Khan's qualities. After a day in police custody after his arrest, the Chief Justice of Pakistan ordered him to appear in court and said, "It's good to see you," and ordered him to stay in a guest house. A judge granted him bail the next day.
Imran Khan won some constituencies in Pakistan where people used to hate politics and politicians. Imran Khan's message of good governance and justice became popular. However, during Imran Khan's tenure corruption increased in Pakistan and many opposition politicians were jailed at the same time.
But the ousting of Imran Khan from power has increased public support for him. Most of them are women and youth, who have never voted or attended political rallies before.